Head Girl – Leigha
Hi, my name is Leigha, I am Head Girl at Caslon.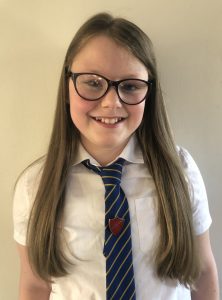 My roles are handing out certificates in assemblies, helping pupils out, showing visitors or new pupils around our school. I always try my hardest to continue to be a good role model to the younger pupils of the school, I want to show the younger years in the school how to be kind and caring to each other. I am always good to be green. I always attend school and I am punctual, being proud to wear my school uniform and part of the Caslon family. This is why I am Head Girl, and I am proud to be a good role model to the younger generations of our school and community.
Head Boy – Ethan
Hi, my name is Ethan, I am Head boy at Caslon.
My roles are helping new students around school and to settle into Caslon, showing parents around when they visit the school. If children have an issue in school I will go and tell the closest teacher and know I have offered support and guidance to our younger children. This means I will also be a great role model for the younger children of Caslon to look up to and aim to be Head Boy.  I will work with teachers to help in their day-to-day jobs. I feel honoured to represent such a great school.
Thank you for reading both of these and we look forward to meeting you all some day.
1,415 total views, 1 views today